Details
This board does exactly what it says on the box: It outputs a voltage between 0 and 4.2V with 1mV resolution. Many industrial controllers expect an analog voltage as an input signal, and this Phidget will bridge this communication gap. It will also launch a warning event if it fails to deliver the voltage you've selected (for instance, when the attached device is drawing too much current). This board is the fastest, most efficient, and most economical choice for voltage output.
Other Options
If you need higher resolution, electrical isolation, or if you need to produce both positive and negative voltage, take a look at the "Other Voltage Outputs" section.
Product Specifications
Board Properties

Controlled By

VINT
Electrical Properties

Current Consumption Min

15 μA

Current Consumption Max

load + 2.1 mA

Current Sourcing

varies*

Current Sinking

varies*
Voltage Outputs

Number of Voltage Outputs

1

Voltage Output Max

4.2 V DC

Output Voltage Resolution

(12-bit) 1 mV DC

Voltage Output Noise

± 150 μV DC

Physical Properties

Recommended Wire Size

16 - 26 AWG

Operating Temperature Min

-40 °C

Operating Temperature Max

85 °C
* Current sourcing and sinking capability varies based on selected output voltage. Please visit the technical section of the User Guide for details.
Documents
Getting Started
Welcome to the OUT1000 user guide! In order to get started, make sure you have the following hardware on hand:
USB cable and computer
something to use with the OUT1000 (e.g. multimeter, oscilloscope, device with voltage input, etc.)

Next, you will need to connect the pieces: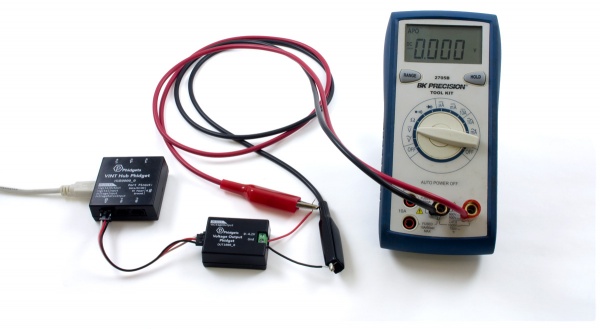 Connect the OUT1000 to the VINT Hub using the Phidget cable.
Connect the VINT Hub to your computer with a USB cable.

Now that you have everything together, let's start using the OUT1000!
Using the OUT1000
Phidget Control Panel
In order to demonstrate the functionality of the OUT1000, the Phidget Control Panel running on a Windows machine will be used.

The Phidget Control Panel is available for use on both macOS and Windows machines. If you would like to follow along, first take a look at the getting started guide for your operating system:

Linux users can follow the getting started with Linux guide and continue reading here for more information about the OUT1000.
First Look
After plugging the OUT1000 into your computer and opening the Phidget Control Panel, you will see something like this: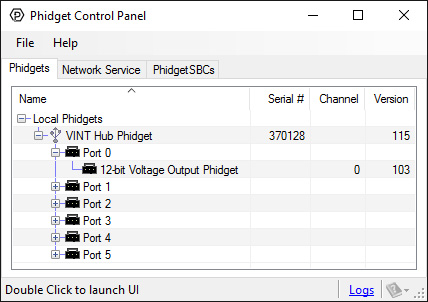 The Phidget Control Panel will list all connected Phidgets and associated objects, as well as the following information:
Serial number: allows you to differentiate between similar Phidgets.
Channel: allows you to differentiate between similar objects on a Phidget.
Version number: corresponds to the firmware version your Phidget is running. If your Phidget is listed in red, your firmware is out of date. Update the firmware by double-clicking the entry.

The Phidget Control Panel can also be used to test your device. Double-clicking on an object will open an example.
Voltage Output
Double-click on the Voltage Output object , labelled 12-bit Voltage Output Phidget, in order to run the example: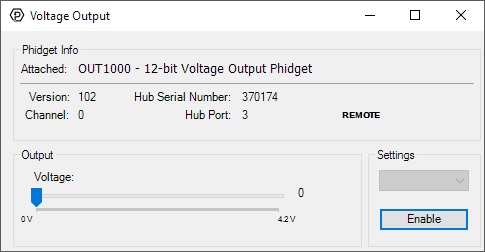 General information about the selected object will be displayed at the top of the window. You can also experiment with the following functionality:
Set the output voltage by dragging the Voltage slider.
Enable/disable the output voltage by toggling the Enable button.
Technical Details
Control Application

Some devices may require an analog voltage as a control input. The OUT1000 supplies a fixed voltage up to 4.2V, which can be used to control such devices.
Note that this device is not isolated, so its ground terminal shares a connection to USB ground. For isolated solutions, check out the OUT1001 and OUT1002.
Transient Voltages
The OUT1000 may have an unpredictable output voltage for a short time immediately after the device is turned on or enabled. If this is a problem in your application and you have no way to ignore it via software, we recommend using a solid state relay to switch the output on once it has stabilized.
Current Sourcing and Sinking
To ensure maximum voltage precision across the device's full range, the OUT1000 Phidget should be subjected to a minimal current draw, ideally less than 3mA.
However, in the event you plan to power a small load with this device, it will either be sourcing or sinking current when in use. When it's connected to a circuit with a lower voltage potential than its own voltage setting, current will be flowing out from the OUT1000 into the circuit, so it will be sourcing current. When it's connected to a circuit with a higher voltage potential than the voltage it's set to, current will flow from the circuit into the OUT1000, meaning it will be sinking current.


The OUT1000 can source or sink up to 15mA of current depending on the selected output voltage. The chart below shows the maximum available voltage for a given expected current draw.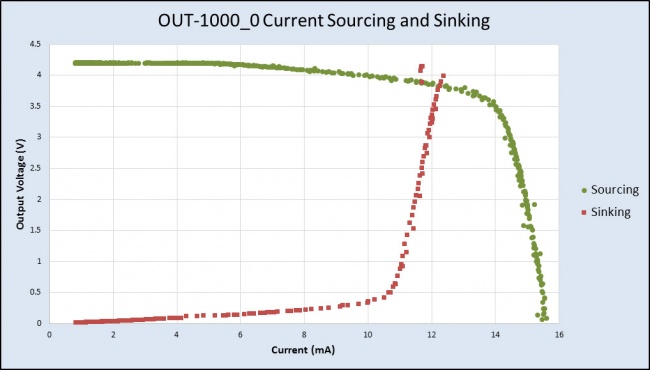 For example, if the connected circuit is expected to pull 14mA of current, the OUT1000 will only be able to provide a maximum of 3.5V, even if you try to set it to a higher value.
What to do Next
Software Overview - Find your preferred programming language here to learn how to write your own code with Phidgets!
General Phidget Programming - Read this general guide to the various aspects of programming with Phidgets. Learn how to log data into a spreadsheet, use Phidgets over the network, and much more.
Phidget22 API - The API is a universal library of all functions and definitions for programming with Phidgets. Just select your language and device and it'll give you a complete list of all properties, methods, events, and enumerations that are at your disposal.
Additional Information
| | |
| --- | --- |
| SKU | ES002304 |
| Manufacturer | Phidgets |