Details
Product Features
This massive bipolar stepper with a rear shaft has a 1.8° step angle and over 100 kg·cm of torque at low speeds.
Product Description
This NEMA-34 motor generates 122 kg-cm of holding torque at 4.2 Amps. It comes with the rear shaft exposed, so you can mount an encoder or shaft coupler.
When connected to a 1067 - PhidgetStepper Bipolar HC, the 3336 has a maximum speed of 1500 RPM.
Motor Controller and Connection
The 3336 stepper motor connects to a bipolar motor controller such as the 1067 - PhidgetStepper Bipolar HC.
The following diagrams show two connection methods: series and parallel.
Series wiring will result in higher torque when the motor is stopped or at low speeds. Parallel wiring will provide better torque at higher speeds, but less torque overall. Since the current in parallel mode is split between two paths, the current rating is doubled.
When connecting motor wires to one another, you must solder or screw clamp them together rather than just twisting them together.
Note: Make sure to unplug the power cord from the motor controller before switching wires around.
The rear shaft of this motor can be equipped with the
HKT22 Optical Encoder
for applications where you need to keep track of the exact position, velocity, or acceleration of the motor.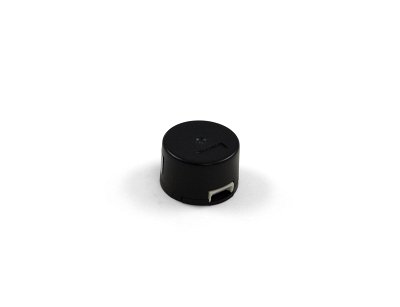 Product Specifications
Motor Properties
Motor Type
Bipolar Stepper
Manufacturer Part Number
86STH156-4208B
Step Angle
1.8°
Step Accuracy
± 5 %
Holding Torque
122 kg·cm
Rated Torque
106 kg·cm
Maximum Speed (w/1067 Motor Controller)
1500 RPM
Acceleration at Max Speed
(w/1067 Motor Controller)
15000 1/16 steps/sec²
Electrical Properties
| | |
| --- | --- |
| Recommended Voltage | 30 V DC |
| Coil Resistance | 900 mΩ |
| Rated Current (Series Wiring) | 3 A |
| Rated Current (Parallel Wiring) | 6 A |
| Phase Inductance | 8 mH |
Physical Properties
| | |
| --- | --- |
| Shaft Diameter | 5⁄8″ |
| Rear Shaft Diameter | 3.9 mm |
| Mounting Plate Size | NEMA - 34 |
| Weight | 5.2 kg |
| Number of Leads | 8 |
| Wire Length | 400 mm |
Warning
Connecting the motor directly to a power supply will destroy the motor and void the warranty. If you want to check your motor make sure it is connected to a constant current / chopper drive controller.

This motor is large enough that the back EMF generated from stalling or changing directions could easily damage your motor controller. If you're planning on using this motor in high-speed or high-torque applications, feel free to contact us for advice.
Resources
Additional Information
| | |
| --- | --- |
| SKU | ES001743 |
| Manufacturer | Phidgets |