Details
This gearmotor is a miniature (0.94" x 0.39" x 0.47"), high-quality, low-current motor with 51.45:1 metal gearbox, similar to Sanyo's popular 12 mm gearmotors. These units have a 0.365"-long, 3 mm-diameter D-shaped output shaft.

Key specs at 6 V: 250 RPM and 40 mA free-run, 7 oz-in (0.5 kg-cm) and 0.36 A stall.
Gearmotor Dimensions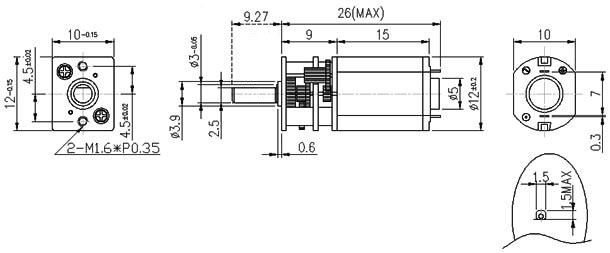 Micro metal gearmotor dimensions (units in mm).
The gearbox has a long (0.365" or 9.27 mm), 3 mm-diameter D-shaped metal output shaft, and the brass faceplate has two mounting holes threaded for M1.6 screws (1.6 mm diameter, 0.35 mm thread pitch). The gearmotor weighs approximately 0.35 oz (10 g). Versions with the extended motor shaft have a 1mm diameter round shaft that protrudes 4.5 mm from the rear of the motor, between the two motor terminals; this is not pictured in the above dimension diagram. In terms of size, these gearmotors are very similar to Sanyo's popular 12 mm NA4S DC gearmotors, and gearmotors with this form factor are often referred to as N20 motors.
The gearbox on the 1000:1 and 1000:1 HP micro metal gearmotors is 12.5 mm long. All of the other micro metal gearmotors have 9mm-long gearboxes
Dimensions
| | |
| --- | --- |
| Size: | 24 x 10 x 12 mm |
| Weight: | 0.34 oz |
| Shaft diameter: | 3 mm |
General specifications
| | |
| --- | --- |
| Gear ratio: | 51.45:1 |
| Free-run speed @ 6V: | 250 rpm |
| Free-run current @ 6V: | 40 mA |
| Stall current @ 6V: | 360 mA |
| Stall torque @ 6V: | 7 oz·in |
| Extended motor shaft?: | N |
Additional Information
| | |
| --- | --- |
| SKU | ES002021 |
| Manufacturer | Pololu |