Details
Product Features
Like a digital tape measure, this 1m draw wire potentiometer measures the length of wire pulled out of it.
Product Description
In complex mechanical systems, it is often very difficult to accurately measure the movement of a single part, particularly if it has several degrees of freedom. The draw wire potentiometer is a versatile solution to this very problem; it can be attached to a part using an M5 screw or fastened to the end with a zip tie, and the potentiometer itself has a pair of M5 screw threads on the back for easy installation.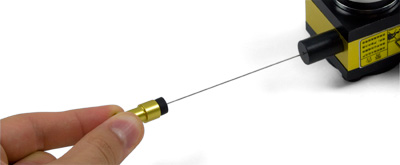 When the wire is pulled out, the sensor produces a voltage to describe the length of wire exposed. The reel is spring loaded, so it will retract when there is no tension in the wire. Multiple draw wire sensors could be used to track the position in more than one dimension.
Connection
You can connect this potentiometer to
any board with an analog input
by soldering a sensor cable to the wires as described below:
| POT4201 | Sensor Cable |
| --- | --- |
| Red | Red |
| Black | Black |
| Yellow | White |
Product Specifications
Sensor Properties
| | |
| --- | --- |
| Sensor Type | Distance (Draw Wire) |
| Wire Pull Length | 1 m |
| Potentiometer Impedance | 5 kΩ |
| Repeatability Error Max | 2 % |
Electrical Properties
| | |
| --- | --- |
| Supply Voltage Min | 5 V DC |
| Supply Voltage Max | 24 V DC |
Physical Properties
| | |
| --- | --- |
| IP Rating | IP54 |
| Wire Load Maximum | 16 kg |
| Wire Pull Speed Max | 600 mm/s |
| Lifespan | 200000 actuations |
| Weight | 355 g |
| Operating Temperature Min | -10 °C |
| Operating Temperature Max | 70 °C |
| Screw Thread Size | M5 |
Related Products
Resources
Additional Information
| | |
| --- | --- |
| SKU | ES002088 |
| Manufacturer | Phidgets |