Details
Product Features
Measure the temperature of an object from a distance with this IR temperature sensor. Plugs directly into a USB port.
Product Description
The 1045 is an intelligent non-contact temperature sensor with a 10° field of view and a USB interface for easy connection to your computer. It takes an average of the temperature of objects placed within its cone of detection.
The 1045 outputs a continuous data flow every 32ms with an active alarm running in the background.; the temperature output data for distant objects ranges from -70°C to 380°C.
This particular revision of the 1045 has the circuitry placed on the reverse side of the board, to reduce measurement errors caused by self-heating.
Some Applications
Sensing and measuring surface temperatures without surface contact
Monitoring a system for over-temperature conditions
Temperature sensing element for a building's air conditioner
Human or animal presence detection
Movement detection
Body temperature measurement
Comes Packaged with
A Hardware mounting kit (4 nuts and bolts (M3), 4 plastic spacers)
Enclosure
You can protect your board by purchsing the 3807 - Acrylic Enclosure for the 1045.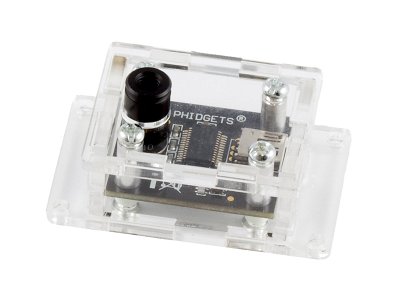 Product Specifications
Sensor Properties
| | |
| --- | --- |
| API Object Name | TemperatureSensor |
| Sensor Type | Temperature (Infrared) |
Temperature Sensor
| | |
| --- | --- |
| Field of View | 10° |
| Temperature Error Typical (At 25°C) | ± 0.5 °C |
| Ambient Temperature Min | 0 °C |
| Ambient Temperature Max | 70 °C |
| Ambient Temperature Resolution | 0.02 °C |
| Ambient Temperature Error Max | ± 4 °C |
| Object Temperature Min | -70 °C |
| Object Temperature Max | 380 °C |
| Object Temperature Resolution | 0.02 °C |
| Object Temperature Error Max | ± 4 °C |
| Update Rate | 31.3 samples/s |
| Assumed Object Emissivity | 1 |
Electrical Properties
| | |
| --- | --- |
| Current Consumption Max | 27 mA |
| USB Voltage Min | 4.8 V DC |
| USB Voltage Max | 5.3 V DC |
| USB Speed | Full Speed |
Physical Properties
| | |
| --- | --- |
| Operating Temperature Min | 0 °C |
| Operating Temperature Max | 70 °C |
Resources
Previous Versions of the 1045
Additional Information
| | |
| --- | --- |
| SKU | ES000015 |
| Manufacturer | Phidgets |